RAVE REVIEWS
Read WHI real-life patient testimonials.
Are you looking for compassionate, comprehensive Primary or Infectious Disease care and treatment? Washington Health Institute is here for you! Our expert team is dedicated to helping our patients live healthy, safe and full lives, both through our research efforts and our one-on-one patient care. Explore our website to learn more about our team, values, difference, programs, services and more, or contact us directly by giving us a call at 202-525-5175 or schedule an appointment online today!
But don't just take our word for it! Read these patient testimonials and see what people are saying about Washington Health Institute. Patient testimonials are proof of our mission to our patients.
Theo Hodge , MD and Mary Beth Alder, PhD, ANP, BC are reunited again and I could not be more pleased. I'm glad that I now can receive the benefit of their practice and research together once again. These two stellar human beings have restored my faith in humanity and the medical profession. I've been a patient with them for over a decade as they have helped me navigate through many health issues over the years. (It's a nasty, dangerous world out there folks! Some people just don't prioritize their health and then end up making you sick. Surprising, considering our community already has to face an uphill battle with right wing insurgents in our midst. Why do we neglect our health and that of our friends and partners? Enough!)

These two rays of sunshine have made me whole again with their charm, candor and vast knowledge of holistic health care. I can't thank them enough. I've followed them as they've progressed from their various iterations to their current impressive location where they have an even greater impact.

It may be bit farther for me to travel but I value my health. I want premier medical professionals who foster a culture of love and compassion. The understanding and genuine care for fellow human beings is palpable in this quality medical practice. See for yourself.
It was an absolute pleasure to work with Olivia Gorman over the duration of our time together. Going into my first meeting with Olivia, I was struggling with anxiety, self-worth, and depression – all products of my competitive, high-performance, academic background. After much hard work (and CBT!), I'm able to take on everyday challenges with self-compassion, grace, and a renewed problem-solving mindset. Though our sessions were virtual, Olivia truly fostered a safe and accepting space where I was able to process complicated events and complex emotions. Thank you, Olivia, for all of the time and hard work you've invested in the improvement of my mental health – it'll undoubtedly make a world of difference as I move on to next life stages.
As someone who was relatively new to therapy (and teletherapy especially), I wasn't quite sure what to expect when I started working with Sophia. I had doubts about whether therapy "actually works" and what I would get out of it. However, I can honestly say that working with Sophia has enabled me to talk about my emotions in a healthy way and given me concrete strategies to deescalate negative thinking.

From the beginning, Sophia also created a warm and inviting space that made me feel welcome in sharing my thoughts and experiences. It took me a while to find a therapist I feel comfortable with, but I'm so glad I ultimately landed with Sophia!
Dr. Bordon was extraordinarily thorough in his review of medical records and very patient with questions.
Dr. Bordon's expertise was wonderful. I feel he is being thorough in resolving my infection. He has a wonderful bedside manner too!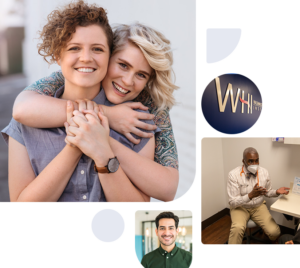 I just started seeing DR May there. He is without a doubt the most personable doctor I've ever had. I had an outpatient surgery then a complication from it. He was so understanding and kind. Highly recommended.
Amazing practice for so many communities. Dr. Hodge is a careful, thoughtful and kind physician. From the comprehensive hands-on physical to on-site labs, this practice delivers wonderful care.
I am writing to highly recommend the Physician Assistant, Kristen Jones. I have had the pleasure to be a patient for the past 5 years and she is amazing. Very professional, knowledgeable and caring. I like that beyond the family practice, she also specializes in women's sexual health. Thank you for all your help in keeping me healthy, Kristen!
I liked his straight-to-the-point demeanor. Also, he didn't push drugs on me. And the office visit was not rushed. I've been in healthcare for over 23 years, and this doctor is personal, and explained his thoughts and listened to my concerns. Thank you, Dr. Bordon and your staff.
Kristen Jones is amazing! Super sweet and funny. Love that she was LGBTQ friendly also. Made sure I was comfortable and relaxed.
SUPERB, PROFESSIONAL, EXCELLENT is the best way I can describe Dr. Theo Hodge. I was referred by Amy Stewart when I had my colonoscopy. The staff was professional and prompt. Felt like and family and very inviting environment. Dr. Hodge took his time discussing my medical record and getting to know me. I was not rushed…Dr. Hodge ensured that we are team and will work with maintaining an healthy and excellent medical partnership. I would highly recommend! I am with Dr. Hodge for the long-haul and would suggest anyone looking for a Primary Care Physician to look no further. Dr. Theo Hodge is the man for the job and exemplifies EXCELLENCE!!!!!!!
Kristen is awesome! So personable and responsive to patient needs. I've been seeing her for over 2 years and will continue.
Seamless transition to remote appointments and e-prescription services. Appointments are just as effective and faster now.
Great place it was first time there I would highly recommend her and she answer any questions or concerns I had as well.
Kristen is super knowledgeable, personable, and efficient. I have the highest confidence and trust in her as my provider!
Dr. Hodge is great. One appointment in and I was already comfortable especially when he explained the risk/concerns typical for the black community. He followed up with me on my action items and really explained how important and easy it is to keep up with my health. Highly recommend!
Dr. Bordon was very thorough and took great notes of my history and symptoms which is the most important. Nothing felt rushed. It felt like he really was there for me and wanted to help me out! I recommend.
Excellent center to connect the care coordination of those of high risks for infectious disease.
Loved Kristen Jones! So easy and comfortable to talk to. Really listened to my issues and provided excellent recommendations!
Loved her! We've chosen her as our family doctor and couldn't be happier with our choice. Felt prioritized and listened to.
Kristen was so thorough and patient in answering all my questions. I would absolutely recommend her to friends.
Dr. Hodge was polite and professional as was the entire staff. Glad to have made the appt and become a new patient.
Dr. Hodge is a great doctor. I felt very comfortable with him and we went over everything. I didn't feel rushed at all. Would recommend.
Dr. Hodge is a great doctor, I felt comfortable and that he was very thorough in the questions and review of my history and family history. I look forward to being under Dr. Hodge's care!
Dr. Hodge is one of the best doctors I have ever met with. He spent 45 minutes discussing my issues and took the time to help me understand and think of underlying causes. You can tell he sincerely cares about his patients and truly wants to help. I found him through Zocdoc based on his reviews and they are absolutely spot on. I cannot recommend Dr. Hodge enough. Absolutely fantastic!
"I have received care all over during my fifty years of life and the team at Washington Health Institute is the first place I have felt cared for. They are treating all of me, my physical and mental health through behavioral health therapy, HIV/AIDS management and as my primary care provider. The team goes above and beyond to ensure I am getting all my benefits and that I am able to afford the best care. For the first time in over twenty years, I feel like I could live forever."
WOW! Ever meet a doctor that just immediately makes you feel comfortable? That's Dr. Hodge! He is professional, extremely knowledgeable, keeps it REAL, and makes you feel like you are a priority. I HIGHLY recommend!
"I am eligible for the Ryan White Holistic Care Program but until I came to Washington Health Institute, no one had ever told me about the program. The team has helped me receive reduced-cost medicine as well as help finding reliable and affordable transportation to my appointments. They also referred me to the right people to help me with housing. I thank this so much for their help. I have recommended them to everyone I know."
SHARE YOUR STORY WITH US
Share your very own patient testimonials about your care at Washington Health Institute with us. We value your feedback!
"*" indicates required fields