Although influenza viruses spread throughout the year, flu season occurs from October to May, peaking between December and February. According to the CDC, getting vaccinated against the influenza virus annually is the most effective way to prevent catching the flu. However, no vaccine is 100% effective. Today, we're looking at six additional tips for staying well during flu season and more.
6 TIPS FOR STAYING WELL DURING FLU SEASON
To protect yourself, your coworkers and your family from the flu, follow these six steps if you feel ill: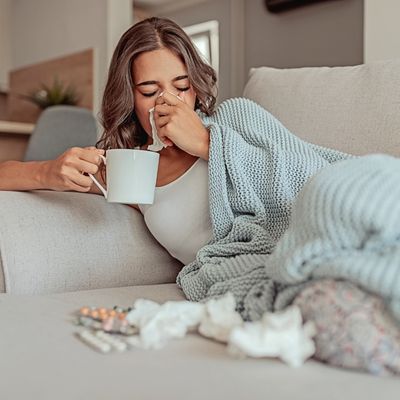 Keep your distance

Stay home if possible. Limit time outside of the house if not

Cover your nose and mouth

Clean your hands thoroughly and often

Don't touch your face

Stay hydrated and eat nutritious foods
WHO SHOULD GET THE FLU SHOT
According to the Advisory Committee on Immunization Practices, almost everyone who is at least six months of age should get an annual flu shot. Seek counsel from a doctor if you have suffered from GBS, feel ill or have an egg allergy. There are flu vaccines made without egg proteins. 
WHEN YOU SHOULD SEE A DOCTOR
If you suspect you are suffering from the flu, it is important to see a doctor as soon as possible. While most people recover from the flu within seven days, the flu has resulted in 12,000 to 79,000 deaths annually since 2010. The sooner you see a doctor, the less likely you are to be hospitalized.
Flu treatments are most effective when administered within 48 hours of symptoms. Schedule a doctor's appointment as soon as possible if: 
Your fever breaks, then rapidly worsens

You develop thick mucus

You can't stop coughing

You have concentrated pain

You have been ill for 14 days
It is crucial that you schedule a doctor's appointment at the first signs of the flu if you are in a high-risk category. For instance, you should schedule a doctor's appointment if you have muscle aches, fatigue or a fever above 100F and you are: 
65 or older

Pregnant 

Asthmatic

Diabetic
Our team at Washington Health Institute is here for you this flu season. If you are feeling under the weather, schedule an appointment with us online or call 202-525-5175.